New blog designs and some freebies!
Chelese contacted me about giving her blog a quick makeover. While she already had a template and background she just needed to revamp her header and some pictures of her kiddos. So I created this header for her as well as the photo frames of her kids on the side bar and a threw in a new button as well. Click on the button to check them out.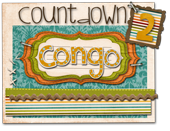 Rebekah won a blog design in a giveaway and picked out this background which to me looked a cozy like a quilt, so I decided to go with a "needlepoint" theme for her blog. Click on the button below to see her blog.
Here are 2 elements from their blogs that I really liked and thought I'd share with you guys. Just click on the images and save to your computer the you can add your own text/photos as you like with your photoediting software.