Another blog makeover and a freebie!
Deena had a great background and a template set up that she really liked already but she just needed to spiff up her header and have me create a signature and button for her blog. Click on the button below to see the finished product.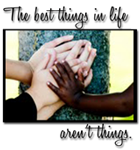 Here's a cute blog header I made but wound up not using. Just add your own text and enjoy!